App Builder
No Coding Required
Flexible And Easy To Change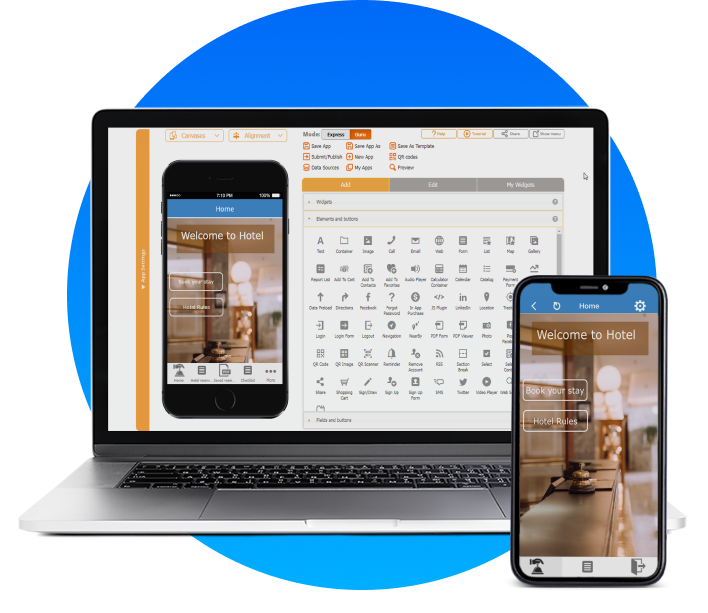 Snappii App Builder is a powerful tool.
We highly recommend that you leverage our free resources before using this App Builder.
What You See Is What You Get Editor
Using Snappii mobile app builder, users can design and build feature-rich enterprise grade mobile apps once and deploy across all major mobile platforms including iOS and Android. In addition, since the app builder does not require any mobile developer skills to get started, programmers and non-programmers alike can deliver robust native apps quickly and easily, saving time and money. The Snappii app builder also provides easy to use application management and integration services.

Snappii enables this rapid and agile development of Mobile Apps with our unique visual WYSIWYG editor (What You See Is What You Get) contained within the platform.

The app builder provides an ability to drag, drop, and configure virtually any functionality required for any business Mobile App. The platform also has built-in capabilities to facilitate the deployment and management of the apps all from a single platform. It is this unique capability that allows business managers to move from app concept to deployment of Apps in 4 weeks or less.
Why Snappii App Builder
Do you need a complex mobile application?
Snappii App Builder is the most powerful codeless app maker for developing mobile business apps.
PROVEN with over 110k
Apps in over 10 years

Our customers and our in-house
app builders use the platform to
build sophisticated business apps.

Feature–rich

More built-in features than any
other Codeless app platform.
This means companies can build
practically any app.


Design apps in days,
not months!

Visually create mobile business
apps using ultra-fast drag and
drop technology. No coding
neccessary.

Cross-platform app

Build your mobile app once visually on Snappii codeless platform, and we will generate native iOS and Android Apps. The high performance apps are compiled with native SDKs.

Native apps

100% native iOS and Android
Apps generated automatically
with one click.

Test immediately

Use the native Snappii preview
app to test your apps right
away as you create them.

Cloud-based

The operational convenience and cost advantages of the SaaS (software as a service) model mean you can get up and running immediately. There is nothing to install or configure.

Enterprise grade

Snappii - generated mobile business apps are enterprise grade with high standards of security, scalability, reliability and manageability
With the visual App Builder, you can see your app work on your device immediately
Visually developing apps on Snappii is significantly faster and easier method of development of feature rich native apps than using SDKs or Frameworks. Development work that takes months to complete using SDKs can be done in just days with Snappii. App updates to all user devices can also be immediately distributed with the single click of a button.
What You See Is What You Get Visual Editor
Build apps visually in the Snappii WYSIWYG editor (What You See Is What You Get), save and see the changes immediately on all test devices. Submit apps to public and private app stores or update existing apps on the fly!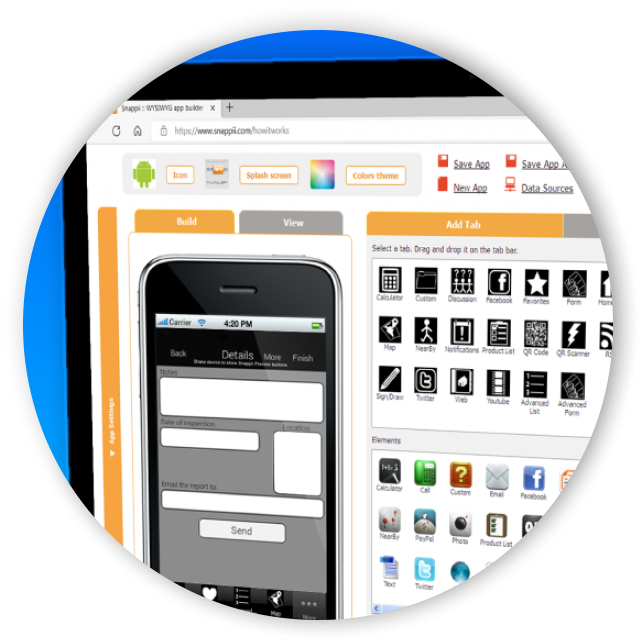 Snappii Run-Time Architecture
Snappii creates a distributed mobile app platform for maximum scalability, performance and code re-use. The architecture facilitates creation of enterprise apps that access data from back end and cloud based servers.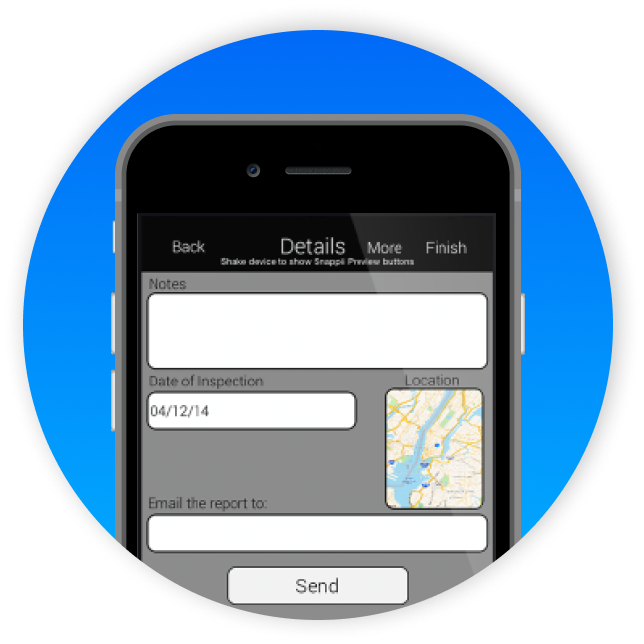 Snappii App Builder Has a Set of Powerful Capabilities
The web based visual app builder allows you to build applications using a simple drag and drop user interface. Add or change functionality in seconds. Customize your screens and tabs with your own design and feature elements.

Build your own apps when and where you want. All you need is an Internet connection and a laptop/PC. Nothing to download, just open the Snappii website and start your app. Make custom, native apps in minutes virtually any time! While you are making an app you can also simultaneously test it on the Snappii App and see the changes at once.

Build your app once and Snappii codeless app builder will generate native iOS, native Android apps.

With Snappii, you can create an app on a platform-neutral canvass. When you're ready, simply check off the platforms for which you want your app to be generated and you're done!

Making and distributing app changes with Snappii app builder takes literally minutes and doesn't require you to be a programmer. Anyone can create changes fast at a fraction of the cost of hiring mobile app developers that require source code changes.

Snappii app builder allows you to create apps and simultaneously view changes on mobile devices with the Snappii Preview App. Your development team can work in real-time facilitating quicker feedback as changes are automatically visible to the entire team on their mobile devices.

The Web2Phone copy allows an active test version of the app to run on devices before it goes live. This affords the opportunity to showcase your app to potential clients to make the initial sale or before the final product is released.

With Snappii app builder, you can create sophisticated data driven native apps that leverage data from both internal enterprise systems as well as cloud based applications.

Upload your own connectors to retrieve and post data from internal web services and cloud based apps. For example, using the SalesForce connector you can pull all necessary information about your leads/clients. Upload their contact info from your device immediately after your meeting and the data will be automatically be updated under your SalesForce account.
Contact Snappii to learn how businesses and organizations can quickly design, configure, integrate, deploy, manage, and evolve robust enterprise apps across multiple devices – no coding required.
Anyone can create a mobile business app without coding using Snappii App Builder. Start Making Your Mobile Business App Today