Custom Mobile App Development
Get a custom app for your company in weeks, not months!
Snappii offers custom mobile app development services using its lightning fast codeless app platform in days, not months with a lot of useful and unique features which meet any customer's need. Your native iOS and native Android apps cost less than $5K, not $50K. Send us your business app requirements, and our team of experienced mobile app developers will estimate your custom mobile app cost. What's more, you can get a working prototype in 48 hours!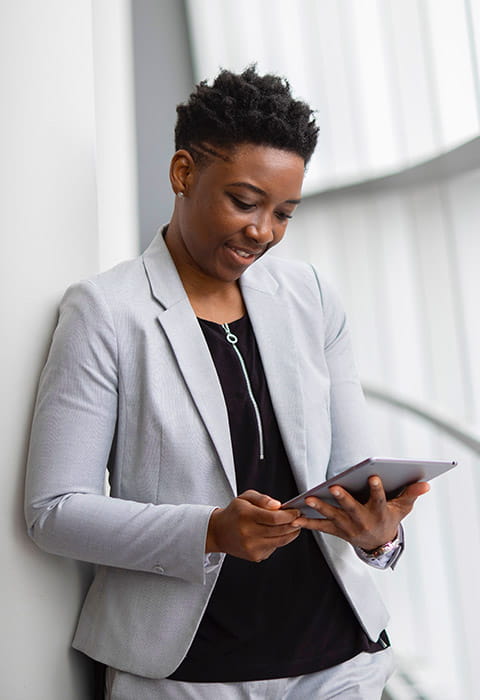 Free Quote
Peter B. Testimonial of Custom Mobile App Development from Snappii
Great Value! I was able to get my app built for 1/4 of the cost had I built it from scratch. It's also a very flexible platform that allows me to customize the app in a number of different ways.
Why Snappii
Your app in weeks, not months

All apps are built on a rapid mobile app development platform. Faster prototyping means receiving an end-product quicker than hiring another custom mobile application development company.

Affordable

Custom mobile app development pricing is cheaper thanks to the Snappii's codeless platform. It takes us less time and you save money.
It works well across platforms, even with constant changes with Apple and Google. It is easy to make minor revisions to apps and have them immediately appear.
Tailored to your business

Proven with over 110K mobile apps built. 500,000 users can't be wrong. We have helped customers from small to Fortune 100 companies to get their custom mobile apps and increase their business presence, improve workflow and significantly cut down extra expenses.

Awesome support

Once your custom mobile app has been delivered, Snappii continues to support you! If you need any changes added to your app, let us know. If you want your team to learn how to use your new app, we can schedule training. Just let us know!
Free Quote
Bryan R. Testimonial of Custom Mobile App Development from Snappii
Super Useful, Extremely informative, saved our bacon and Helps us make Decisions. The SNAPPII team, from sales to development are nothing if not wonderful to work with. Their support is top notch, they thoroughly understand your project, and they follow through.
Our Features
Snappii Rapid Mobile App Development Platform has one of the largest set of features in the market.
QR and Bar code scanners

Add QR codes and scanner capabilities to your apps for many uses.

Location and Maps

Provide users with location information including mapping, directions or capturing weather conditions.

Signature and Drawing

E-sign documents, speed up decision making, annotate photos right on your mobile device.

Photo, audio and video capture

Record evidence and proof of work done in the field.

Custom calculations

From costs per hour for job estimations to complex room size calculations, construction materials required for a job, and more.

User access management and authentication

Control who from your team has access to what information in your custom mobile app.

Notifications

Send product alerts, company updates, or news to the app users.

Multilanguage support

Snappii supports 17 languages to build a custom mobile app.

Web services and database integration

Connect to websites, web based applications and internal databases with RESTful API web services.

Cloud based

The collected information is stored in the cloud and can be accessed 24/7.

Native iOS and Android apps

With visual app creation, drag-and-drop interface controls optimized for mobile, and instant testing on any device, Snappii apps deliver full native app user experience.

Data collection and reporting

Capture information right on the spot using your mobile device. Generate professional PDF and Excel reports and share with the others!
Free Quote
LeRoy C. Testimonial of Custom Mobile App Development from Snappii
The Snappii team was very helpful along the way answering questions and getting me thru roadblocks along the way and customer service is exceptional.
We've helped thousands of companies in many industries to create their own custom mobile app
Construction
Heavy Equipment
Oil & Gas
Field Service
Fire Safety
Vehicle and Fleet Inspection
Building and Property Inspections
Transportation & Logistics
Field Tracking and Delivery
Warehouse Management
Jane Clark, NationaLease testimonial of Custom Mobile App Development from Snappii
Read more testimonials
Free Quote
Examples of Custom Apps
Used to conduct retail audits, Fresh Check helps teams around the country inspect, report, and share market conditions. This custom mobile app uses such features as GPS location capture, photo capture, and powerful reporting.

This app is used by many thousands of warehouse managers as a must-have app. It allows you to inspect inventories with your smartphone or tablet. The app utilizes camera, and bar code scanning, it provides powerful reporting regarding the items' movement.

Businesses realize the need for mobile apps. This is the easiest way to reach out to potential customers. Consumers use mobile apps more than access the web via their computers and laptops. According to various studies, users respond to push notifications sent to their mobile devices 26% better than to the emails. And the reason for that is that push notifications are delivered instantly, while it takes up to 6 hours for the end-user to read an email. A custom mobile business app will help you get into consumers' phones.
Free Quote
John B. testimonial of Custom Mobile App Development from Snappii
Benefits
Time

Snappii rapid mobile app development platform allows us to create feature-rich enterprise-grade custom mobile apps in days vs. months if you hire a mobile app developer. You will receive a working prototype in 48 hours.

Cost

Hiring a mobile app developer is expensive and custom mobile app development pricing can reach a 6-digit number. The reason why android and iphone app development companies charge less is speed of development. The majority of frequently-asked features are already built on the platform, so it only takes a few days to add them to a custom mobile app.

Real-time app development

Our clients can interact with our app builders during the app development process. Snappii mobile application development service uses real-time native app previewing at any time.
Free Quote
Edwin Smutt, Elevation Transport testimonial of Custom Mobile App Development from Snappii
Custom mobile app for any business
How important is a mobile app to your business?

Every company now understands that it needs a mobile app. Even small companies want one. Therefore, custom app development needs to be affordable. Having a mobile app for your business can be compared to having a website. Mobile devices are more popular now than PCs, and are more frequently used. They can increase customer engagement, help to promote specific products and services, provide better customer service and more.

Aren't mobile apps really expensive?

Yes, they are expensive if you hire a mobile app developer. Developers write code from scratch to build your custom mobile app. When it comes to a mobile app development company like Snappii, our clients are getting surprised with such affordable price. How can Snappii afford custom app development at such a low cost? The secret sauce is the ultrafast Snappii Visual app development platform. Using Snappii custom mobile apps are built visually with a drag, drop and configure method. Snappii's custom app development process includes fast prototyping. The customer will see the first prototype already in 48 hours. Snappii's developers involve the customer in the custom app development process, getting comments and requirements directly and can quickly fix certain points before the release of the application, which significantly saves time.

How can I get a custom mobile app for my business?

Send us your app requirements, and our team of professional app builders will provide you with the quote. If you agree with it, we start working on the prototype. Order custom app development from Snappii today and mobilize your business fast!
Free Quote